Hiker Photo Archive
Jean Cashin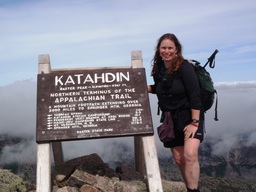 Laurie Potteiger
Having your photo taken at the Appalachian Trail Conservancy (ATC) headquarters in Harpers Ferry, West Virginia, has become a standard ritual for those hikers intending on walking the entire A.T. One of the functions of the ATC, as the lead organization in managing and protecting the A.T., is to maintain the official 2,000-miler registry of all those who have completed the A.T. Therefore, having a photo taken here makes many hikers feel as though their hikes have gained official recognition.

Most hikers photographed here are roughly halfway through their journeys. Harpers Ferry is known as the Trail's "psychological halfway point", although the actual halfway point is about 75 miles north, in Pennsylvania near the Appalachian Trail Museum.

Northbound thru-hikers, who start at Springer Mountain, Georgia, represent the largest percentage of photos. Other important categories are Southbounders, who start at Mt. Katahdin in Maine; Flip-floppers, who begin somewhere other than Springer or Katahdin and complete the Trail in a single year; and Section-hikers, who may take anywhere from just over twelve months to several decades to complete the trail in pieces. Any hiker whose intention is to walk the entire Trail, regardless of how long it takes, is eligible and cheerfully encouraged to have a photo taken at ATC HQ.

By the time hikers reach Harpers Ferry, the impact of their time on the Appalachian Trail is clearly visible. Photographs show men and women who are confident, fit, relaxed, and at times, exultant. Changes in hiking gear and clothing over the years are apparent. Photographs taken prior to July 4, 2005, show ATC's original name, "Appalachian Trail Conference", which was taken from the group's first meeting in 1925. The name was changed from Conference to Conservancy in 2005 to better reflect the organization's land conservation mission.

The tradition of taking hiker photographs began as a lark. A Polaroid camera was given to ATC staff member Jean Cashin (known to legions of hikers as "Trail Mom") for Christmas in 1979. She decided to bring it to work and started taking pictures of hikers for fun. Over time, the practice became a standard procedure, and a numbering system was developed that serves as an informal registration. This practice has provided the most consistent photo documentation of long-distance hikers anywhere on the entire A.T. and perhaps in the world. After Jean's retirement, Laurie Potteiger ("Mountain Laurel") took over supervision of ATC's Visitor Center in Harpers Ferry and the taking of hiker photos. In mid-2008, the Polaroid era ended and hiker photos began to be taken using a digital camera.

Thanks to a generous grant from the Quimby Family Foundation and the work of dedicated volunteers of the A.T. Museum under the leadership of Terry Harley Wilson, both scanned versions of the earlier Polaroid photos and the more recent digital photos can now be viewed on-line from anywhere in the world. When the A.T. Museum opened in Pennsylvania's Pine Grove Furnace State Park in 2010, digital versions of the photos became available there too.