Hiker Photo Archive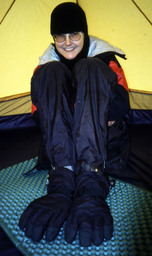 Terry Harley-Wilson
Between January and April 2009, 12,779 images representing over 18,000 Appalachian Trail hikers were carefully removed from old notebooks, barcoded, scanned at 600 dpi, and placed into archival quality sleeves and slip-covered albums. The entire process took sixteen volunteers over 425 hours to complete. Removing the originals from the old notebooks was particularly tedious, and care had to be taken to maintain the proper order as they were barcoded and stacked in groups of 100 for scanning.

The scanning operation took place at a workstation set up in a windowless walk-in storage area just off the ATC's Hikers Lounge. Luckily, the volunteers who handled the scans were able to work through any claustrophobic issues they might have had!

Cataloging the images by date the image was taken, trail name(s), and real name(s) took many months. Because not all the images were dated – and being able to search by date is very handy – approximating the date taken often involved looking at the image itself and how it fit within the sequence for clues. How is the hiker dressed – shorts or Gore-Tex? Is the porch wet or dry? And didn't I see that same pack in the background of another Polaroid three images back?

Other issues that came up included:

• Scribbly handwriting (is that really the way they spell their trail name??);

• Matching trail names to the correct real names; and

• Determining which trail name goes with the hiker and which one belongs to the dog (not always immediately apparent!).

A few tips: If you search on a name and do not find the image you're looking for, keep in mind that the writing might have been smudged – or otherwise not legible– or we may have mistaken you for the dog. So, please bear with us. Also, many hikers don't know the exact date they were in Harpers Ferry. If you search on a date and don't find your image, try expanding the date range.

It was an honor to have been involved with this project. Every time I came upon an image of a friend I'd pause and for a moment I was back out on the Trail. I hope you'll enjoy the opportunity to relive one of the most special moments that comes with being a long-distance backpacker.

Terry Harley-Wilson, A.T. Museum Society